Board Game Top Ten - 2021
25 Nov 2021
I was asked the other day what my top 10 board games were. While I'm usually fine ranking things, I have trouble with coming up with a single list for something like board games, since what I want to play is largely dependent upon things like who I'm playing with and how much time we have. So you're getting a list of my favorite games for a given situation.
Overall
Panamax - If you ask me at any point what I feel like playing, chances are Panamax would come to mind. The game has a lot going for it: solid mechanics, nice design, heavy enough to be really engaging but short enough to fit into a regular session, but what puts it at the top of my list is the player interaction. There's a mechanic where if you are shipping moving something through one of the canal locks it costs the same regardless if you are sending through just a litlle or packing it full. That means that you can help out another player at no cost to yourself, creating an interesting dynamic. It gets even more interesting when you start using money from your player board (victory points, essentially) to add incentive for others to help you out. I've never played anything else quite like it.
Tzolk'in - When Tzolk'in first came out, it wasn't clear if the clock mechanism/mechanic at the heart of the game would be a novelty that quickly wore out its welcome or if it would have staying power. Thankfully, it turned out to be the latter, leading to gameplay full of really interesting decisions and interaction that rarely feels negative. It comes in at about 90 minutes of play time, but is engaging enough that my partner really likes it, which is saying something (45 minutes is usually about as long of a game as she wants). Combine with some really awesome aesthetics (the gears are just amazing when painted), and you have yourself a winner.
Quantum - When I first played this game, I immediately played it again. It has really unique mechanics, a fun theme, and really tight gameplay. That last point may seem minor, but it matters a lot to me. A lot of games feel like you spend 90% of the game building an engine, then never really get to see it run, or get going and keep going past the point where the game feels decided. Quantum has a really quick ramp up and feels close the entire time.
Family / Kids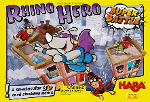 Rhino Hero Super Battle - This is my favorite game to play with kids (though Mole Rats in Space definitely deserves a mention). In my experience, kids are really casual about it, placing new floors on the wobbly tower with a cavalier swagger, while adults are stessing out and covering their eyes. It's a blast. The only drawback is that the game is focused on simplicity, so the rules around battling feel too light when playing with just adults. As my kid gets older, I'm sure we'll house rule it.
Casual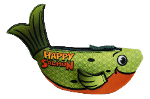 Happy Salmon - It's pretty hard to get more casual than Happy Salmon, which you can play in 60-90 seconds. That being said, it's some of the most fun I've had with cards. Also, it functions as a team building exercise and any game you can play at work is a good game in my book. Just watch out for Stacy, she always wins. Also, it looks ilke the righs to the game were purchased by Exploding Kittens, so there will be a new version out soon.
Solo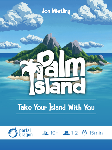 Palm Island - More than a good pun, Palm Island is a great solo game. I like solo games, but I often want something different from them than from a regular board game, so I often get turned off by setup and the need for table space. This game gets all that stuff just right for my taste: you don't need a table or surface or anything since you are holding the entire game while you play; there is virtually no setup, just shuffle the cards and go; 15 minutes is the perfect amount of play time for me, this game perfectly replaces phone games.
Theme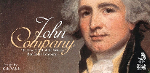 John Company - This may seem like an odd choice for best theme at first glance, but I think of theme in a board game as the quality of feeling like you're doing the thing that the game is about, and John Company definitely feels like you're part of the East India Company. I've only played it once (though I would play again given half a chance), but it left a very strong impression on me. I didn't win (not even close, the mechanics didn't click for me until about 1/3 of the way through), but I remember the excitement of being voted in as Governor for one glorious round, and better yet, not running the company into the ground during my brief tenure. My second choice for this category is actually another odd choice, Die Macher, a 4+ hour simulation of German elections which feels exactly how I imagine clawing your way to the top of the political heap would be. I love both of these games, but John Company's shorter play time puts it on top in my book.
Two Player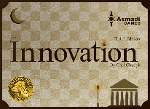 Innovation - Although it isn't strictly a two player affair (unlike Mr. Jack Pocket, Agamemnon, or 2 de Mayo–all of which I love for various reasons), Innovation really doesn't want 4 people at the table. It was one of the first games that I played where I immediately wanted to play again. Like most Chudyk games, it has a bit of a learning curve, and feels really unbalanced (it isn't, though, just because you drew an awesome technology doesn't mean you're going to win). Really my only complaint about it is setup, but eventually I'll get a custom playmat for it which should fix some of the problems. On the subject, if you want ot play a Chudyk game with more people, find an old copy of Glory to Rome or Import/Export (which feels like a spiritual successor, even though it is by a different designer).
5+ people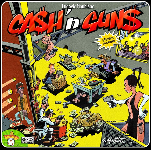 Ca$h 'n Gun$ - Any game that can get create this sort of situation is something special. I love that this game is quick to explain, plays fast, and creates direct conflict without vitriol. Mostly I've played the 1st edition, which I love. I've also played the 2nd edition, but I feel like the added complexity doesn't really pay off for what I want out of it (though it is is still a far cry from being complicated). That being said, if I didn't already have a copy of the 1st edition, I would not hesitate to buy a copy of either edition, depending on availability.
Gateway
Mint Works - This is probably a bit of a controversial choice, compared to the standards of Carcassonne, Ticket to Ride, or Power Grid, all of which I have played and appreciate. But for me the ideal gateway game should be portable, quick to set up, and quick to play. Mint Works, which fits in a literal mint tin and plays in 10-20 minutes checks all of these boxes. It's a game that you can keep in your bag and whip out on the spur of the moment at the lunch table. It is also a good introduction to the worker placement genre. Given how cheap it is and that it has a solid solo mode (both of which are excellent qualities for a game that I would lend out to someone who shows interest), this is my go-to for people who express interest in board games but haven't played anything beyond Monopoly.
---
Well, that's it. There are a bunch of games in my collection that I want to highlight here, but I'll save them for another post. One of my projects for the next few months is to clean out my game shelves, and I'm hoping that doing so makes it easier to get a sense of what games I really love, so maybe next time I do this list I'll have updated it. Then again, maybe I'll do a totally different format next time, perhaps best game by mechanic?
---